Handjob Class
Well what do we have here… It seems that this glovemansion duo of naughty babes managed to get their slutty little hands on another sexy hunk that they will train to obey their every command and it's the usual jizz draining technique for him today to get him to submit to them. And as you know, they don't have to take long to have any guy where they want him either. Well today you get to see just how the process goes down as the ladies get to do whatever they want with the guys too. Let's not waste time and get this glove mansion show going today as we bet that you guys are eager to see the action go down in it as well today!
The babes make their entry with the guy following shortly after them. As soon as they enter the room, they make sure to undress him and while they're doing that, you can see them kissing and caressing his whole body too. Watch them securely tying him up to something so that he cannot move, and then more teasing follows as they wanted to make sure that his cock was as hard as possible. Well as you can imagine the guy was ready to blow just from that, but the babes kept pushing him and teasing him and not letting him cum until they wanted it to happen. In the end you get to see the blonde mistress strip and take that load all over her cute face and tits!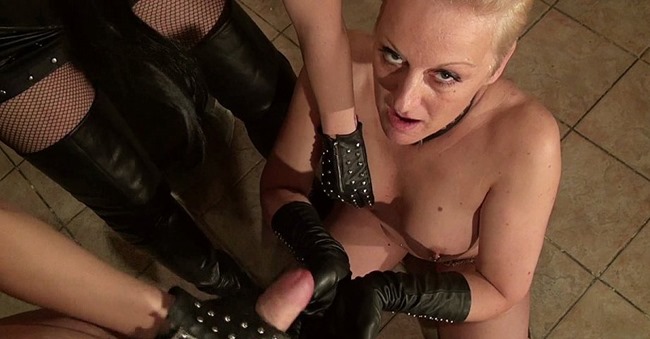 Take a look at these babes getting cum all over their gloves!