Bound Gloved Handjob
Welcome to a new and hot glovemansion scene today with some more sexy stuff going down. For this scene we bring you another amazingly hot and beautiful brunette mistress that gets to have her way with this stud for the afternoon and you get to see each and every thing that she ended up doing to him too. He was a very very naughty man and she had to discipline him some way. And in the end we think that he may have enjoyed it more than he should have too. Well that's okay because this superb babe here is more than happy to please her man sluts if it means that they are going to stay put. Anyway, let's get this started and see the action go down.
The scene begins with the babe making her entry to the room where the guy patiently waits his punishment for the afternoon. You can see that she was clad in leather and see through clothes and she looked simply amazing today. Well she makes sure to strap him in nicely to a wooden thing to the wall and after that is done she moves to the next phase. Which of course, involves her playing with his cock. Take your time to see her jerking off this lucky man slut for the afternoon and have fun with the scene. We will bring you some more new and hot galleries next week as well everyone. Until then goodbye and have some fun! Bye bye!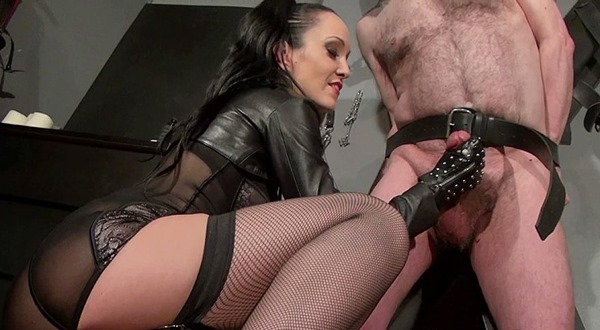 Check out this mistress offering an insane handjob!