Glove Threesome
Hey there once more. Glovemansion is back once again to show off more naughty and sexy mistresses enjoying wild times with their man slaves. And this time we have a threesome with one horny and sexy mistress that has been around here in the past as well. You can click here and enjoy another one of her scenes as she got together with a female buddy of hers and they double teamed a nice stud's cock for the afternoon as well. Well in this gallery you get to see her as she gets serviced by two of her favorite sex slaves and she sure takes her time to party hard with them today. Let's not delay and see her in action!
Her scene begins with her as she gets to make her entry to her bedroom with the two guys following shortly behind her too. Once inside the babe has the dudes drop their pants and you can see her go full slutty mode as she takes their cocks and starts to do a nice and hot double blow job sucking both cocks at the same time. Well toady she needed her pussy pleased as well, so as she continues to blow one dude's hard cock, the other gets to have her sexy round ass all to himself as she bends over too. Watch him kissing and licking her as she keeps sucking and enjoy this new and hot scene. See you next week with another glove mansion gallery everyone! goodbye for now! For similar material, enter the http://jbvideo.us/ site and see other beauties getting kinky!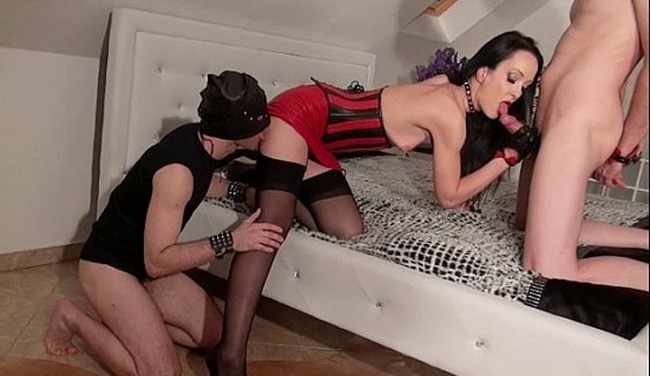 Check out this mistress getting fucked hard!