Goddess Latex Handjob
Another fresh week and time to see some more new and hot glovemansion scenes today as well. We bring you the milking mistress that you got to see in action some days ago as she comes back and wants to play some more with her favorite man slut. She had her sexy outfit on once more and rest assured that that was more than enough to get the guy going today. She basically trained him that every time he gets to lay eyes on her, he gets instantly hard and honestly, at the babe looks regularly with her superb latex outfits, that would be enough to get any guy hard or any babe horny anyway. So let's get this going and see her hard at work some more.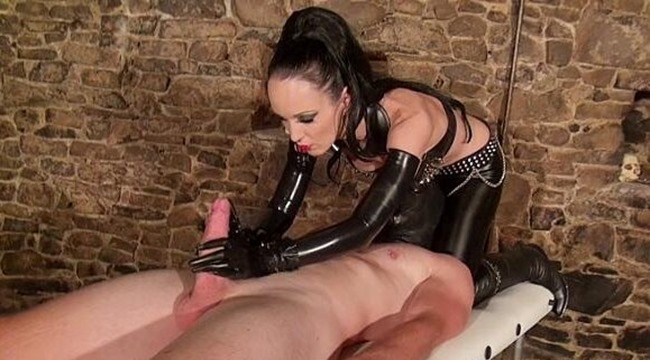 It was that time of the week for her when she needs to completely drain this stud and she seems to have been having a lot of fun doing this and training him to hold off for a whole week. Her fetish is to see his nice and hard cock shooting lots and lots of sticky jizz and rest assured that she likes to get off to that too. That's why she always wants it caught on camera. Anyway, sit back and watch her get on top of him on the table, and once there see her starting to play with that cock, you get to see her play with it and tease it until the guy can't hold it in any longer and just unleashes a torrent of cum all over her latex gloves today. Enjoy!
Take a look at this mistress getting cum all over her gloves!